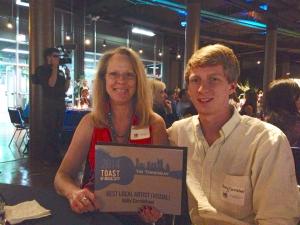 Holly Carmichael, Nashville based, Expressionist and Fine Arts Painter, pictured with her son, Kenneth N. Carmichael of Smyrna, TN was awarded Third Place in the prestigious Toast of Music City Reader's Choice Awards 2014 in the "People and Places" category for "Best Local Artist (Visual). The awards, hosted by "The Tennessean" newspaper annually for approximately 40 years, are highly touted and desirable for local businesses to attain gaining print and other local media attention as well as winning brag banners, posters, certificates and flyers . There were upwards of 90 categories overall and approximately 90,000 votes cast in this overall competition.

The winners in this category were Holly Stokes, Photographer, First Place, Aimee Stubbs, Photographer, Second Place and Holly Carmichael, Fine Art Painter, Third Place. CONGRATULATIONS WINNERS!

The ceremony was hosted in the Musician's Hall of Fame and Museum in downtown Nashville. It was a business attire affair...